Trump prepares for his own meeting with Kim Jong-un
Comments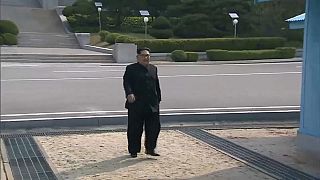 US President Donald Trump says he has spoken with South Korean President Moon Jae-in and preparations for a meeting with North Korea were under way.
Trump has taken credit for Kim Jong-un's sudden willingness to talk, and Moon has also praised the American president's campaign of "maximum pressure" and sanctions for helping.
''Just had a long and very good talk with President Moon of South Korea,'' Trump said on Twitter. ''Things are going very well, time and location of meeting with North Korea is being set. Also spoke to Prime Minister Abe of Japan to inform him of the ongoing negotiations."
At their historic summit meeting on Friday, the leaders of North and South Korea shook hands and signed a pledge to pursue peace on the Korean peninsula.
Trump says he will maintain sanctions pressure on North Korea ahead of his own meeting with Kim Jong-un.