Erdogan launches his election campaign
Comments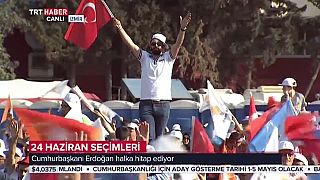 Turkey's President Recep Tayyip Erdoğan has kicked off his election campaign in İzmir, a city known for being a stronghold of the main opposition Republican People's Party.
The rally came as former president Abdullah Gul announced he would not be running in June's election .... a point that Erdogan was quick to seize on.
''We're ready for these elections,'' he said. ''As opposed to the opposition which has no candidate yet and can't even reach agreement among themselves.''
More than 50 million Turkish citizens will head to ballot boxes on June 24 for the parliamentary and presidential elections after the AK Party and the MHP called for early elections last week.
The snap poll has caught opposition parties by surprise.
Erdoğan is expected to announce his party's manifesto on May 6 in Istanbul.