Warmbiers take legal action against North Korea alleging torture of late son
Comments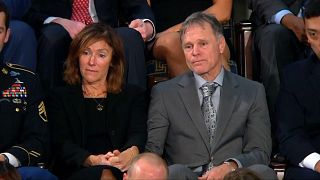 The family of the deceased American student Otto Warmbier has sued North Korea for "brutal torture and murder".
Fred and Cindy Warmbier filed a lawsuit in a federal court in the US capital Washington, as the family reported.
In it they described in detail how their son, in the 17 months of his imprisonment by the regime of the North Korean ruler Kim Jong Un, suffered.
At the end of 2015, 21-year-old Otto Warmbier was arrested after a group trip in the country and sentenced to 15 years in labour camps for "hostile acts against the state". He had admitted to having stolen a propaganda poster.
While in prison, Warmbier went into a coma. He died a few days after returning to the USA in June 2017.
The parents' complaint comes at a time of diplomatic rapprochement: US President Trump is expected to meet Kim in late May or early June.