Three little bears find sanctuary in Bulgaria
Comments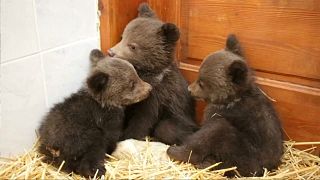 Three baby bears are being cared for at a sanctuary in southwest Bulgaria after being found in the wild.
The cubs, two boys and a girl, are thought to be about three months old.
Staff say the trio were alone, with their mother nowhere to be found.
"Our colleagues waited for their mother to show up but she did not," said Dimitar Ivanov, Manager of the Dancing Bears conservation park in Belitsa.
The sanctuary is managed by the international animal welfare charity 'Four Paws', which says it is home to 25 rescued bears, 20 of which used to be dancing bears.
The three new arrivals are being fed on goat's milk, fortified with vitamins.