Merkel in the US: 4 questions answered
Comments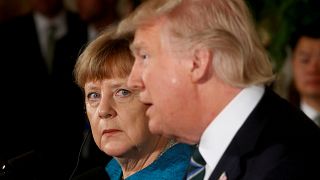 German Chancellor Angela Merkel is visiting the US. Here's the lowdown
What is Merkel's main focus?
Merkel's visit comes just a couple of days before May 1, when the US has announced it plans to put tariffs on steel and aluminium imports from the EU. This has raised huge concern in Europe and especially among German industry leaders and is seen by the German government as a punitive measure. Trump has been critical of Germany's trade surplus with the US and promised to tackle it since he took office. So German business leaders will be watching Merkel's visit with keen interest; the US remains a key export nation for Germany, but the feeling in Berlin ahead of the meeting is that it is unlikely that Merkel will be able to change Trump's course on the tariffs. On the heels of President Macron's visit, Merkel will also want to reiterate the importance of maintaining the Iran nuclear deal, and sticking to climate agreements.
What will be Trump be likely to bring up?
Donald Trump finds fault with the fact that Germany hasn't committed to its NATO commitment goals of 2% GDP spending on defence, an issue he is likely to bring up as an example of how other countries are lagging behind the US when it comes to military commitments. Merkel has been defensive about defense before- promising that Germany increase its current level of spending (just over 1%) to meet its goals by 2024. The issue is, however, a harder sell in Germany, where the issue of spending more money on defense is a politically divisive issue.
How will the meeting be different from President Macron's?
Macron had the red carpet rolled out for a lavish state visit; Merkel is there for a "working trip"; this says a lot about how different lythe leaders of France and Germany are seen and respected by Trump. International media made a lot of the "bromance" between Macron and Trump, the French President has been dubbed the "Trump whisperer" for the way he was able to charm his American counterpart despite the fact that he doesn't agree with him on a lot of issues. But there is a real personality clash between the brash machismo that Trump embodies and the pragmatic and measured German Chancellor. She is just beginning her 4th term so has much more experience than the young French leader at dealing with foreign heads of state she doesn't see eye to eye with, but meetings between Trump and Merkel in the past have been painfully awkward and there probably won't be much chemistry there tomorrow.
What does this mean for relations between Berlin and Washington?
Ever the diplomat, and with the hopes of German CEOs pinned on her, Merkel will try to forge a positive dialogue with the US President during this trip. While the majority of the German public share their Chancellor's scepticism of the American President and his politics, a healthy relationship with the US leader is a must. Under Obama, relations between Berlin and Washington were stronger than they had been in decades, the friendship between the two was something that Germans were proud of and which really helped Merkel's popularity as leader. But times are different now; Merkel is faced with the rise of populism at home in Europe and in Germany, and it doesn't look like she has a new friend in the White House she can turn to.