Europe this morning: 25 April 2018
Comments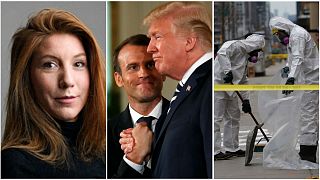 Good morning Europe! Here are the stories we are watching this morning:
Denmark murder trial: A verdict is expected later today in the case of Danish inventor Peter Madsen who is accused of killing Swedish journalist Kim Wall.
Macron in the US: More on his stateside visit, including a speech to US Congress and the latest on the future of the Iran nuclear deal.
Anzac Day: Prince Harry and Meghan Markle commemorate the deaths of soldiers in a ceremony in London.
Toronto van attack: The names and details of victims caught-up in Monday's attack are released.
Alfie Evans: The toddler's parents are due to appeal against a High Court decision today which prevents Alfie from being taken to Italy for treatment. The 23-month-old has a degenerative brain condition for which doctors say there is no cure.
Follow the latest here: