Macron breaks with Trump on climate change: 'There's no Planet B'
Comments
By Rebecca Shabad with NBC News Politics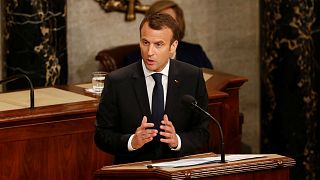 Copyright

REUTERS/Aaron Bernstein
WASHINGTON — French President Emmanuel Macron, in an address to a joint meeting of Congress on Wednesday, laid out a couple of key areas where he differs with President Donald Trump — the Iran nuclear deal and the Paris climate accords.
Macron called on the U.S. not to withdraw from the Iran deal negotiated by the Obama administration with France, Russia, the United Kingdom, Germany, China and the European Union.
"This agreement may not address all concerns and very important concerns," Macron told lawmakers, "but we should not abandon it without having something substantial and more substantial instead."
France will not leave the Iranian nuclear deal, Macron said, arguing that "Iran shall never possess any nuclear weapons. Not now, not in five years, not in 10 years — never."
Trump, for his part, has sharply criticized the nuclear deal and faces a May 12 deadline to re-certify it. At his Senate confirmation hearing for secretary of state this month, Mike Pompeo, the current CIA director, said that he would like to alter the nuclear deal but added that he has not seen evidence that Iran has violated the agreement.
During his speech, Macron also warned of long-term consequences if the world does not combat the effects of climate change now.
"Let us face it, there is no Planet B," he said, adding that he hopes that the U.S. will rejoin the Paris agreement reached under Obama that is intended to curb carbon emissions. Trump announced nearly a year ago, last June, that he decided to pull the U.S. out of the agreement.
Macron urged that there be no shift toward isolationism.
"Let me say we have two possible ways ahead. We can choose isolationism, withdrawal and nationalism. This is an option," Macron said. "It can be tempting to us as a temporary remedy to our fears. But closing the door to the world will not stop the evolution of the world. It will not douse, but inflame, the fears of our citizens. We have to keep our eyes wide open to the new risks right in front of us."
The French president addressed the "ever-growing virus of fake news" that he said "exposes our people to irrational fear and imaginary risks."
Macron's speech came after he attended the first state visit hosted by Trump this week at the White House and spent Tuesday presenting a close personal relationship between the two leaders.