Astronomers access huge amounts of data on the stars in our galaxy from Gaia space telescope
Comments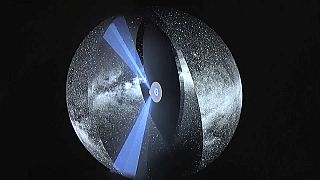 Astronomers are celebrating a massive data release that offers them the richest ever map of the Milky Way.
The information comes from ESA's GAIA space telescope, which has surveyed almost two billion stars in our galaxy.
They now have very precise data on billions of stars around our galaxy that will make for decades of analysis. It gives them the possibility to research the history of our galaxy and postulate what might happen in the future, too.
Astronomer François Mignard was one of the founding fathers of the GAIA mission. So why does this data release make such a difference to star gazers?
"We can sum it up with three objectives: Quantity, Quality, Variety ... Quantity is simply the number of objects that GAIA has been able to measure - nearly 2 billion, 1 point seven billion. We have never done this. Variety - we have the image in depth, we have the image in the sky, we have the distance, the most difficult parameter for astronomers, which makes GAIA exceptional, and marks a real date, a real turning point in the astronomy of the Milky Way, and probably the knowledge of the universe. "
The GAIA mission isn't over, either. Further data releases are due in the next four years, with expectations that the space telescope will offer even more information about objects such as asteroids in our solar system alongside more insights into the workings of our galaxy.