Syrian pro-government forces 'strike IS positions' in Damascus
Comments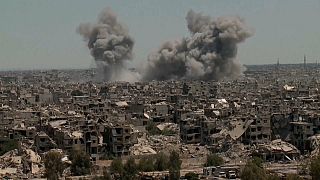 Syrian state TV reports government forces have launched a new operation, targeting underground tunnels used by Islamic state in the capital city, Damascus.
The UN estimates around 6,000 Palestinian refugees are in Yarmouck in southern Damascus, the city's last area not controlled by President Bashar Assad's forces.
The country's state televsion claims they're aiming to destory dug out trenches and tunnels in the Hajar al-Aswad nieghbourhood and the nearby Palestnian refugee camp of Yamouk, mostly controlled by IS.
A group of nearby journalists confirmed they witnessed intense shelling and airstrikes on IS positions.
Jaysh Al-Islam, a coalition of Islamist rebels, have repeatedly refused to hand over their positions to the Syrian Army and their Palestinian Allies.
Other insurgents in the area, including an al-Qaida-linked group, have said they'd relocate to rebel-held regions in northern Syria.
The head of the UN agency for Palestinian refugees, UNRWA, said its deeply concerned for civilians in the area.
It's on the same day as the EU and UN meet in Brussels to discuss possbile resolutions to the on-going Syrian civil war crisis.