Disbelief in Toronto after van leaves trail of death in city centre
Comments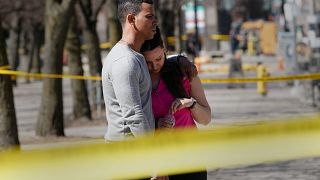 Shocked witnesses in Toronto have been describing what they saw when a white van mounted crowded pavements and struck pedestrians indiscriminately.
The incident happened around lunchtime, as the driver managed to drive over a kilometre, mowing down people, before coming to a halt.
"He just went on the sidewalk he just started hitting everybody man. He hit every single person on the sidewalk, anybody in his way he hit, the bus stop, everything got shattered. There is a lady in there that I saw, I just stopped and I looked and I went after it again. All I see is just crumbling up, one by one one by one," said one man.
"I was just in the coffee shop and I saw there's a white truck, just go to the sidewalk. And so many people just shout him 'stop the car' but he didn't, he just keep moving," said a young woman.
Some businessmen were sat outside on their lunchbreak.
"We were eating lunch, we came out, there's a lot of people, a huge crowd of people on both sides of the stree...... And there were four bodies on the ground. Police and the ambulance hadn't arrived yet but people were trying to revive them, obviously to no avail," said one of them.