The French community in New York welcomes the state visit of Emmanuel Macron
Comments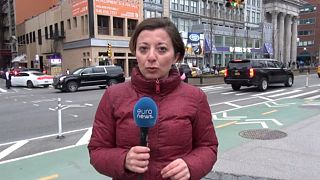 For many French people in the United States Emmanuel Macron's state visit is a welcome sign of their country's renewed influence on the world stage.
Writer Marc Levy is on a visit to the French embassy in New York.  He says that France is taking the lead in ensuring that Europe has a voice in international affairs and that the participation in the airstrikes on Syria has reinforced that position.
"I think that it's positive that France is a front line partner in the relationship with the USA," he says. "Almost representing the EU, because France is one of the European countries alongside Germany with the strongest awareness of the importance of Europe."
Businessman Olivier Coste has been in New York for four years developing a messaging app that's powered by Artificial Intelligence. He'd like to see a western alliance on high tech.
"I live in the high tech environment where the USA is dominant," he says. "But China is soon going to be a giant. Wechat is already ahead of Facebook, and the Chinese market is soon going to be larger than the USA and Europe together. So it would be great for companies like mine, if the USA and Europe could co-ordinate better their policies like national security privacy, competition rules, we share the same values."
Marine Gabrielle Brun-Franzetti is an artist, filmmaker and student from the South of France who has been living in New York City for three years.
She says that since Trump has been elected people are worried. They worry about their future, their career. For people with a migrant status, for instance French people like her,  she says it's more difficult to think about the future in the USA, because they are worried about their visas, things like that.
There's been something a French invasion in the fashionable area of Brooklyn and tour guide author Laurene Hamilton confirms it's the practical aspects of living in the US that's of most concern for this community.
"I think that the priority for French people is to speed up the migration process," she says.  "With smoother and easier visa procedures."
While other world leaders kept their distance, Macron stretched out a hand to Trump by inviting him to the French Bastille Day celebrations.  It's a strategy that public policy researcher Jennifer Merchant approves of.
"I think that President Macron has chosen diplomacy and dialogue with a president who is very controversial and that it's a very good approach," she says.
Simone Bateman from the CNRS says:  "I think that Trump and Macron have to take a critical approach to what's happening in our countries and they should be able to have a dialogue about it,  to be able to open up the future."
Euronews correspondent in New York is Michela Monte. She says that French citiziens living in the USA are watching the Trump Macron axis with interest. Expectations vary but everybody wants the French president to protect and develop French and European iInterests.