Trump urged to stick with Iran nuclear deal
Comments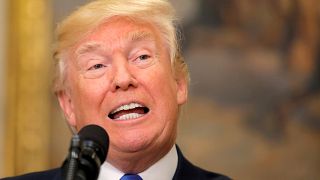 -
Copyright

REUTERS/Carlos Barria/File Photo
The French President Emmanuel Macron and the Iranian foreign minister Mohammad Javad Zarif have urged the U.S President to continue with the Iran nuclear deal.
The arrangement which has been in place since 2015 saw the reduction of Iran's nuclear programme. Donald Trump has been highly critical of the deal and wants it to be renegotiated.
In a television interview Mohammad Javad Zarif said Iran was ready to restart its nuclear programme if the U.S pulled out of the deal.  Emmanuel Macron said the deal had faults but there was no better option.
President Trump has until May 12th to decide whether to restore US sanctions against Iran.