Bloomberg picks up US climate bill
Comments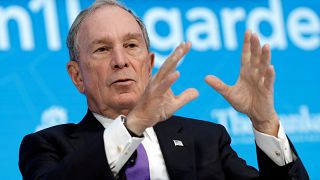 Former New York mayor and billionaire Michael Bloomberg has said he will write a $4.5 million check to cover this year's US financial commitment to the Paris climate agreement.
"Our foundation will uphold our promise to cover any cuts to UN climate funding by the federal government," Bloomberg said in the statement.
Last year President Donald Trump pulled out of the pact making the US in effect the only country opposed to it. The move sparked international condemnation.
The landmark Paris agreement reached in 2015 commits the US and 187 other countries to keeping rising global temperatures "well below" 2C above pre-industrial levels.
As well as the limit on global temperatures, it includes a limit on the amount of greenhouse gases emitted by human activity and a requirement for rich countries to help poorer nations by providing "climate finance".
Trump staunchly opposes the agreement and his administration has rolled back a number of environmental regulations.
In January, President Trump said the US could "conceivably" return to the deal if it treated America more fairly.