Seventeen drown in Dragon Boat accident in China
Comments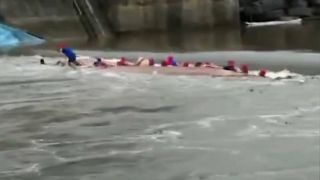 Seventeen people drowned on a river in China after two dragon boats practicing to race in the traditional Dragon Boat Festival capsized.
The accident happened where two flows of the river converge causing a powerful current.
Some 57 people went into the water, most were not wearing life jackets.
Drag boat racing is popular in various parts of Asia and the Festival is a traditional holiday in China.
Some 200 rescuers were sent to help with the rescue effort which went on late into the night.
Two people have been detained in connection with the accident.