Nicaragua journalist shot dead covering unrest live on Facebook
Comments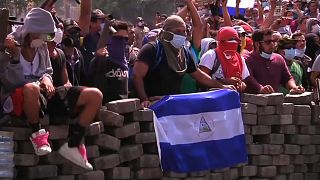 Local media in Nicaragua say a reporter has been shot and killed during a live broadcast from an area rocked by anti-government protests.
The man, identified in the reports as Angel Gahona, was said to have been broadcasting live on Facebook from the Caribbean coastal town of Bluefields.
A video shows scenes outside a building where the reporter had reportedly been describing a damaged cash machine. A cameraman films from behind him as a shot rings out.
The man, wearing a light blue T-shirt, slumps to the ground bleeding from the head. Screams of "Angel" are heard as people run towards him.
A colleague of the journalist reportedly told Canal 15 television that a police sniper was believed responsible.
On Sunday Pope Francis called for an end to the recent violence in the country. In his regular address in St Peter's Square he urged "an end to every form of violence and to avoid the useless shedding of blood".
At least 24 four people are believed to have died in demonstrations against a series of unpopular government reforms in Nicaragua.
The protests started on Wednesday following the approval of a controversial pensions reform that would increase workers contributions while reducing their benefits.
After days of silence, on Saturday President Daniel Ortega opened the way for talks, saying that his representatives were "ready to go to the negotiating table". However some protesters believe the announcement by the president is too little, too late, and are demanding that the president stand down.
Ortega, who led Nicaragua in the 1980s has overseen a period of economic growth and stability since returning to power in 2007 though critics say it has come with an erosion of fundamental freedoms and an increasingly authoritarian presidency.