Watch: Students at Paris occupation caused thousands of euros worth of damage, says university president
Comments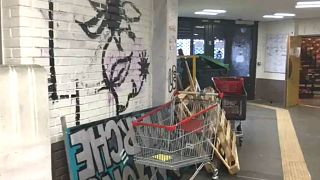 Copyright

Credit: Juliette de Noyelle via Storyful
Protesters caused hundreds of thousands of euros in damage during an occupation of the Pierre Mendès-France Center at Paris' Pantheon-Sorbonne University, according to its President Georges Haddad.
"I have trouble describing it (the site)," Haddad told CNews on April 17. "I am dismayed by the state of the centre, a real shambles. Violence, drugs, sex itself. I've been told that and I think it's true, things are happening that are shameful."
Students and activists started the occupation on March 26 and were cleared out in the early hours of April 20.
They were protesting President Emmanuel Macron's higher education reforms.
Around a hundred officers raided the 22-storey tower on the university's Tolbiac campus, situated on the Seine's Left Bank.
Some students ran while others threw objects including bottles at police, according to an AFP journalist who was at the scene.
Video from inside the centre showed graffiti on the walls and shopping trolleys and crates in the hallway.
Haddad said he was relieved the occupation was over and that no one was injured.
However, hundreds of thousands of euros of public money would now have to be spent on the clean-up, he said.
This year marks the 50th anniversary of a volatile period of civil unrest in France in May 1968, which saw demonstrations, massive general strikes as well as the occupation of universities and factories across the country.