Two Palestinians killed in clashes on Gaza border
Comments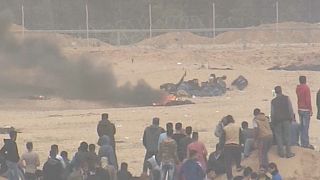 At least two Palestinians have been killed and scores injured amid renewed unrest along Gaza's frontier with Israel.
Israeli troops are said to have opened fire with live ammunition on Friday after thousands of Palestinian protesters took part in further demonstrations at the border fence.
In addition to the dead, health officials said around 80 people needed hospital treatment.
Organisers, who have billed the protests as the "Great March of Return", say they are demanding the right to go back to their former homeland.
Friday's violence brings the total number of killed to at least 33 as protests enter their fourth week.