FIFA World Cup referees put VAR technology to the test
Comments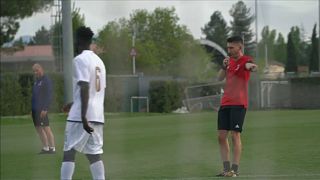 FIFA World Cup referees were being put through their paces with the contentious Video Assistant Referee technology in Florence on Wednesday as they prepare for June's tournament.
Spectators at World Cup matches will be able to see replays of incidents which are reviewed by the video assistant referee (VAR) on the stadium screen once a decision has been made, FIFA said.
It is in response to criticism that fans are often in the dark over the use of the VAR system.
Soccer's rule-making body IFAB approved the use of the VAR system in March and FIFA subsequently confirmed that it would be used at the World Cup in Russia.
FIFA referees committee chairman, Pierluigi Collina said the use of the technology will not eliminate "discussions" within the game as decisions are subject to the interpretation of referees.
"It is normal before you start using something that is new and not well-known by many, it is normal that someone could be sceptical about this," Collina said. 
"What we can say is the goal is clear - VAR can avoid big mistake to be committed."