NASA to use 3D-printed parts for spacecraft for first time
Comments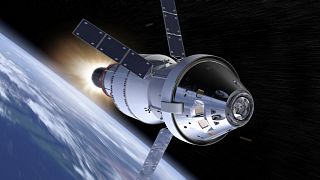 -
As NASA prepares to send a spacecraft deeper into space than ever before, it will do so achieving yet another milestone. For the first time ever, some of the spacecraft's components will be 3D printed. An innovation that could speed up space exploration.
With its unmanned Exploration Mission-1, NASA hopes to provide the foundation for human deep space exploration. Expected to launch in 2019, the three-week mission will see the Orion spacecraft travel 280,000 miles (450,000 km), including thousands of miles beyond the moon.
Upon its return to earth — which will test Orion's ability to make a precision landing within eyesight of a recovery team — it will have travelled a staggering 1.3 million miles.
Another first will be the use of over a hundred 3D-printed components made from new materials offering "high performance mechanical, chemical and thermal properties."
"The reason why NASA is using these materials is that it's a very strong polymer. It's resistive to very harsh environmental conditions in terms of temperature and the key thing is that it has electrostatic discharge properties which is really important for spacecraft," Dr. Phil Reeves, vice president of strategic consultancy at Strastasys, which produces the materials with Lockheed Martin and PADT, told Euronews.
"We don't realise what goes on in space. Although we assume that spacecraft are just travelling through vast big nothingness, they're not. They're passing through ionized gas and particles all the time and the outside of these vehicles is picking up huge amount of electricity. That presents enormous danger to the systems and the people in the aircraft. So the importance of these performance materials can't be underestimated," Reeves added.
The 3D-printed parts are intricate, complex shapes. Components for the critical parts situated just outside of Orion's docking hatch will, for instance, be 3D printed. The six individually printed parts will lock together to form a ring on the craft's exterior.
According to Reeves, the use of these new 3D-printed materials also promises to make space exploration cheaper and faster.
"It (3D printing) makes the design and manufacture of spacecraft faster. Historically, these components were probably machined from solid, or they may have been made with very expensive tools and all of those processes, we've now displaced them — we go directly from design to final product by printing. That's a real economic benefit and it has a real time saving benefit to NASA and their suppliers," Reeves said.
"What NASA are getting here is obviously the material that they need, but it's certified for their application and they get all of the benefits of 3D printing in that they can get print all these individual, highly complicated shapes very cost-effectively."
If the mission is successful, NASA aims to send a second Orion flight, with astronauts on board to fly near the moon, which would be a first since 1972.