Scandal hit sumo wrestlers bounce back
Comments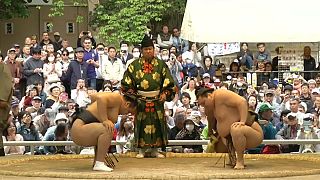 Thousands of wrestling fanatics and tourists enjoyed the ceremonial Spring Festival sumo wrestling tournament.
The event was held at a controversial war shrine in Tokyo on Monday amid scandals over Japan's national sport.
It's after a raft of negative publicity surrounding incidents ranging from assault, bullying to accusations of sexism.
The sumo ring is believed to be sacred and according to some media, a place where sumo wrestlers make offerings to a jealous female goddess.
But many fans believe the ancient sport should be more inclusive, particularly with the Tokyo 2020 Olympics just around the corner.