NATO chief defends air strikes on Syria
Comments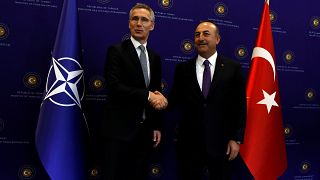 NATO Secretary-General, Jens Stoltenberg, on Monday defended the air strikes on Syria by the U.S, France and the UK.
The airstrikes were triggered by an alleged chemical attack in the town of Douma, just outside of Damascus, earlier this month.
The NATO chief was speaking after a meeting with the Turkish Foreign Minister, Mevlut Cavusoglu, in Ankara.
Stoltenburg said the worldwide community had to uphold the international ban on the use of chemical weapons.
"The effect of the strikes has helped to degrade the chemical capability of the Syrian regime," said Stoltenberg. "It sends a clear message of deterrence meaning that it shows that the international community reacts when chemical weapons are used and it helps to protect the ban on chemical weapons."
The Turkish Foreign Minister denied a claim by French President Macron that the airstrikes had succeeded in engineering a split in the Russian-Turkish alliance.
"Unfortunately many of our European friends chose to act in a populist way, not taking the current situation seriously," said Cavusoglu. "The president's words are denied by many countries. We expect Macron to make statements that suit a president. When the president himself doesn't tell the truth, it is our responsibility to say it."
Stoltenberg was scheduled to meet with President Erdogan later on Monday. He has praised Turkey for doing "a lot" for the alliance "despite facing serious security challenges."