Red Bull's Daniel Ricciardo wins Chinese Grand Prix with a combination of great driving and soft tyres
Comments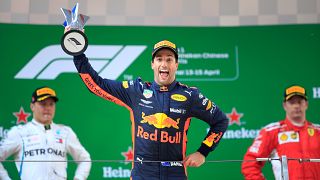 Daniel Ricciardo of Red Bull won Sunday's Chinese Grand Prix to claim the sixth victory of his Formula One career.
Ricciardo, who had to have his blown engine rebuilt on Saturday ahead of qualifying, started from the third row.
He took advantage when the safety car came out on the 31st lap to allow him to get fresh tyres.
He took the lead on the 45th lap, overtaking Valtteri Bottas of Mercedes - one of several impressive overtakes from the Australian.
Bottas finished second and Kimi Raikkonen of Ferrari was third.
Sebastian Vettel, who won the first two races of the season, fell back to eighth after starting on pole.
Vettel still leads the season standings with 54 points in three races.
Lewis Hamilton, the four-time and defending champion, finished fifth but was promoted to fourth ahead of Max Verstappen.
Verstappen was penalised for causing a collision with Vettel.
The result means Vettel's lead over Hamilton in the overall standings has now been cut to just nine points.