Polls close in Montenegro presidential election
Comments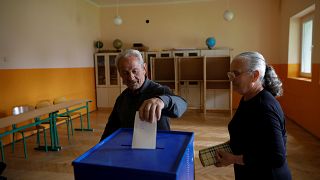 Polls have closed in Sunday's Montenegro presidential election with a 58.6% voter turnout according to local election watchdog CeMI.
Voters in Montenegro went to the polls on Sunday in a presidential election. Just over half a million people will choose from seven candidates.
Former Prime Minister Milo Djukanovic is expected to win after his party defied Russia and took the small Balkan nation into NATO last year.
The vote is the first since Montenegro, that used be part of the former Yugoslavia, joined the Western military alliance in December, and it's seen as a test for Djukanovic, who favours European integration over closer ties to traditional ally Moscow.
Polls suggest the 56-year-old could win more than half of the votes on Sunday and avoid a run-off.
Djukanovic's main challenger is Mladen Bojanic, backed by several opposition groups, including pro-Russian ones. Bojanic, an economic expert and former lawmaker, has accused the ruling party of corruption and links to organized crime following a rise in crime-related violence.
Djukanovic's Democratic Party of Socialists has ruled Montenegro for nearly 30 years. He led Montenegro to independence from Serbia in 2006 and was behind the NATO bid, and he hopes next to steer the country into the European Union.