Trump lawyer Cohen denies travelling to Prague
Comments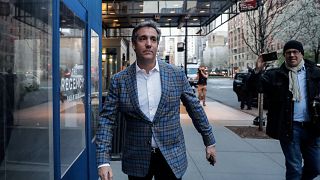 US President Donald Trump's personal lawyer Michael Cohen has denied reports he visited Prague in 2016.
A media report by McClatchy said Special Counsel Robert Mueller, who is investigating suspected Russian meddling in the presidential election, has proof Cohen met an ally of President Vladimir Putin in the Czech capital.
Cohen is due to appear in federal court on Monday in connection with a raid last week on his home and office by the FBI. President Trump called the raid disgraceful.
Prosecutors say they are focusing on his business dealings rather than his work as a lawyer. They say that aside from his work as an attorney he has other business interests and sources of income.
They are seeking information about a $130,000 payment (105,000 euro) made by Cohen just before the election to porn star Stormy Daniels, who says said she had sex with Trump in 2006. The suspicion is that the money was paid to buy her silence.
The president denies the alleged relationship.