'Priority is to avert war', says Russian envoy
Comments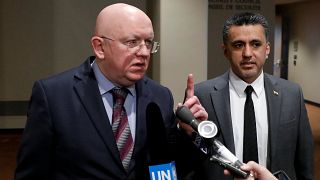 Russia has called for the UN Security Council to meet on Friday to discuss Syria and has requested that UN Secretary General Antonio Guterres publicly brief the 15-member body.
It follows an urgent plea from Moscow's UN Ambassador Vassily Nebenzia that the immediate priority is to avert the danger of war.
"We hope that there will be no point of no return, that the US and their allies will refrain from military action against a sovereign state. You understand that the danger of escalation is higher than simply Syria because our military are there on the invitation of the Syrian government," Nebenzia told reporters. 
Meanwhile, a team of experts from the global chemical weapons watchdog OPCW is en route to inspect the site of the suspected gas attack that has triggered the current crisis. Russia backs the visit of the team, which has no mandate to apportion blame.
Russia, Syria and its other main backer, Iran, have said reports of a poison gas attack on Douma on April 7 were fabricated by rebels and rescue workers and have accused the United States of seeking to use it as a pretext to attack the Syrian government.
Russia said it deployed military police in Douma on Thursday after the town was taken over by government forces.
"They are the guarantors of law and order in the town," RIA news agency quoted Russia's defense ministry as saying.