Free bus travel is proposed for Britons under 25
Comments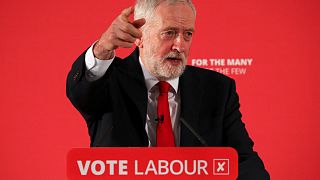 Labour leader Jeremy Corbyn has pledged to offer free bus travel for those under 25 in England if his party wins the next general election.
"Young people deserve a break" the 68-year-old said on Twitter, adding that up to 13 million of them could save as much as £1,000 under the scheme.
It comes ahead of an official policy announcement he will give in the city of Derby later on Thursday, when he will say: "Young people also tend to be in lower paid, more insecure work, and they spend a higher proportion of their income on travel. Giving them free bus travel will make a huge difference to their lives."
Young people were also a key source of support for Labour in last year's general election. According to a post-election survey by Ipsos MORI, around 60% of voters aged 18 to 24 backed the party in June.
But Labour proposes the policy, estimated to cost £1.4bn, could be subsidised by road users via Vehicle Excise Duty: funds which are normally earmarked for road improvements, while additional cash needed for infrastructure could be sourced from government borrowing.
The plan wouldn't apply to people living in Scotland, Wales and Northern Ireland as transport policy has been devolved to their respective parliaments.
Young people living in council areas where transport services are brought into public ownership would be eligible for the scheme.
Corbyn's Labour have previously pledged to renationalise transport services and grant councils powers to set up bus companies in an effort to expand their operations and clawback money that could be used to reverse cuts.
Speaking alongside Corbyn in Derby, Labour's shadow transport secretary Andy McDonald was expected to say: "For too long, private bus companies have run our services for profit not people … deregulated private companies choose to run only the profitable services and leave councils to plug the gaps left for non-profitable but vital routes.
"That's why we'll encourage local authorities to take back control of their buses."
The governing Conservative party have voiced skepticism following the announcement, dubbing it an "empty promise" that could cost taxpayers much more than predicted.
Transport minister Nusrat Ghani said: "Labour admit themselves this could cost up to £13bn meaning extra borrowing with working people paying the price.
"Last election Labour promised to pay off student debt if elected and then admitted it would actually cost too much to do. Now they're bribing young people again with yet another empty promise."