Canadian suspected of burying victims in flowerbeds charged with seventh murder
Comments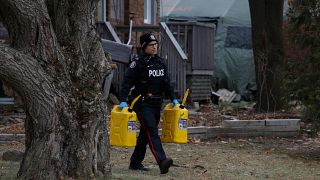 Canadian Bruce McArthur, a landscaper from Toronto, was charged with a seventh first-degree murder on Wednesday.
The 66-year-old was arrested in January and initially charged with two counts of first-degree murder but with more alleged victims identified since. Wednesday's charge is for a 42-year-old man names as Abdulbasir Faizi, who disappeared in 2010.
McArthur is alleged to have used his job as a gardener to hide evidence of the murders by spreading the remains of his victims —all men who frequented Toronto's Gay Village— in flowerbeds and plant pots.
A police investigation found human remains in 30 backyards McArthur used to work at, all belonging to seven men who went missing since 2010. Pictures of the victims were also found on the suspect's computer.
Detective Hank Idsinga leading the investigation said at a news conference that his team is not sure how many more gardens to search but that they believe there may be more victims.
Idsinga added that investigators are reopening 15 cold case murders that took place between 1975 and 1977 to search for potential links to McArthur.