Dutch residents rage at singing road in their village
Comments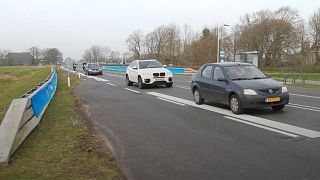 A musical stretch of road is disturbing residents' sleep in the Dutch village of Jelsum in Leeuwarden — and locals have had enough.
Having cost €80,000 to implement, strategically laid rumble strips currently line the N357 which, when hit at speeds of 60kph, play the anthem of the Friesland region.
The white lines are typically deployed along the border of major roads to warn drivers if they are straying off course.
The local council hoped the rhythmic road fixture would go down well, considering Leeuwarden's designation as the European capital of culture 2018 and because it encouraged speeding motorists to slow down to fit the tune. But they've instead riled up the community.
"Last Saturday night, taxis were driving from (Friesland capital) Leeuwarden to (the Leeuwarden district of) Stiens and on the way back, they tried to go across the lines as quickly as possible and we had the anthem playing all night at high speed," says Ria Jansma, whose home lies 200 metres from the N357.
It seems the Friesland authority have taken heed. According to local daily the Leeuwarder Courant, the strips will finally be removed later this week, which will no doubt be music to villagers' ears.