Strikes in Europe: What's happening and where
Comments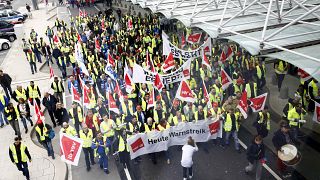 If you live in France or have made plans to visit within the next three months, you'll probably have heard about the strikes. Transport staff are staging repeated walkouts across the country amid disputes concerning pay and economic reforms, and both trains and air services are affected.
But French rail workers aren't the only ones laying down their tools. In Germany, a public sector strike has grounded flights in Germany.
For how long will strike action affect European transport services, where will they happen, and what can you do if you are affected?
Germany's public sector strike
German airline Lufthansa has grounded half of their scheduled 1,600 flights on Tuesday amid a national walkout among public sector employees fighting for higher pay. Around 90,000 passengers are affected, they said in a statement.
Ground crews and airport firefighters are hanging up their uniforms until 6pm CET Tuesday before a normal service resumes on Wednesday.
The strike affects airports in Frankfurt, Munich, Cologne and Bremen, which have advised passengers to come "as early as possible" to avoid long queues at security checkpoints.
Germany's largest airport in Frankfurt warned of "major disruptions and flight cancellations" on Twitter, advising travelers to contact airlines to see if their flights are still running.
Scandinavian airline SAS also cancelled flights to Frankfurt and Munich Tuesday due to the strikes.
The nationwide walkout will continue until Friday (April 13) ahead of pay talks on Sunday and Monday.
Affected travelers will need to consult with their respective carriers in order to change their booking or secure a refund. According to European Union regulations, airlines must offer a full refund for unused parts of tickets, or re-route passengers to their destination as soon as possible.
Rail strikes in France
Transport shutdowns across SNCF's rail network have been scheduled for April until June, affecting two out of every five days or 36 in total.
CEO Gaillaume Pepy said the stoppages had so far cost the rail operator €100 million since they began last week, with disruptions often spilling into non-strike days.
Those who have tickets to travel until April 29th may be able to exchange them or request a refund before their departure date, but those booked to travel in May and June will have to wait "for the moment", according to SNCF.
To check if your train is still running, travelers are advised to refer to the rail operator's website, app or social media channels on the day before their journey by 5pm at the latest.
Those who have booked journeys with budget operator OUIGO can check if their trains are circulating by consulting their online schedule from 5pm the previous day. For ticket exchanges and refunds, customers will need to submit a contact form to the company specifying their request. Refunds will be automatically issued as OUIGO travel vouchers that expire after six months, unless customers ask to be reimbursed via their bank card in their message.
Travelers and commuters with an unwavering need to get to their French destination within the country, or from a bordering state, have used popular car-sharing site Blablacar as an alternative. About 80 of 95 routes out of the northern city of Lille were fully booked during strikes last week. 
Air France strikes
Angered by a pay freeze since 2011, Air France staff unions have called for walkouts on April 10, 11, 17, 18, 23 and 24.
But as of Tuesday (April 10), the airline has managed to preserve 75% of its flight schedule with reduced services impacting long-haul flights, and journeys to and from Paris-Charles de Gaulle, as well as between Paris-Orly and French provinces.
Passengers preparing to fly on dates impacted by the strikes have been advised to check the Air France website on the day before their departure, when the flight schedule is made public. Otherwise bookings may be postponed until April 30, depending on when the ticket was purchased.
Those looking to delay their flight until after April, or who wish to change their destination, departure city, or cancel the trip altogether, may also receive a non-refundable voucher that is valid for one year.