Chemical weapons experts to visit Syria
Comments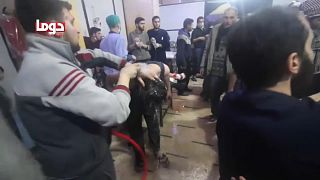 The Kremlin submitted a resolution to the United Nations Security Council proposing that the Organisation for the Prohibition of Chemical Weapons investigates the alleged chemical attack in Douma in Syria over the weekend.
Speaking with media in Moscow, the Russian Foreign Minister Sergei Lavrov said that we cannot blindly believe the results until experts take a closer look.
The Russian Foreign Minister, Sergei Lavrov said, "We have invited experts from the Organisation for the Prohibition of Chemical Weapons there in Douma and we will strive for this visit to happen. We cannot blindly believe the results that are produced by investigations at a distance."
Around 60 civilians sheltering basements were killed and over a thousand were wounded, according to medical teams.
The German Chancellor, Angela Merkel is unenthusiastic about Russia's proposal for the OPCW to visit Douma. She said, "First of all, the evidence that chemical weapons were used there, is very, very clear. As far as I am concerned, that can be checked over again, but it doesn't help us as we condemn the case. We've already made clear yesterday that we sharply condemn the use, and it is shocking that chemical weapons are used there again and again after so many international discussions and condemnations"
The OPCW has agreed to send a fact finding team to Douma and US President Donald Trump has cancelled his first official trip to Latin America to focus on this issue.