Marathon des Sables: Rachid El Morabity edges brother Mohamed
Comments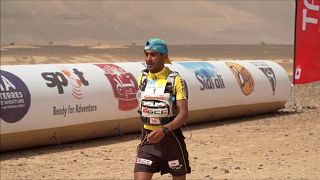 Stage two of the Marathon des Sable was a 39 kilometre jaunt under the sweltering Saharan sun between West Aguenoun N'Oumerhiout and Rich Mbirika.
Morocco's Rachid El Morabity beat his brother Mohamed finishing in 3hr4mins.
He was a full 10 minutes ahead of his sibling.
Fellow Moroccan and long-distance runner Abdel-kadar El Mouaziz again followed the brothers in to take third place.
In the women's category, Russia's Natalia Sedykh again came in first, followed by American Magdalena Boulet and Denmark's Bouchra Eriksen.
The annual ultra-marathon pits more than 1,000 runners against each other over six days with and six regular marathons, with only one rest day.
The combined distance over the six races is a massive 254km with the longest stage 91km.