French rail strikes: neither side backs down
Comments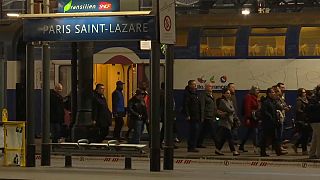 Monday was another nightmare for rail travellers in France.
It was the fourth time rail workers strike over plans to overhaul the heavily indebted train operator SNCF.
It's President Macron's biggest drive to reform the country's economy.
Prime Minister Edouard Philippe warns the unions, that the government will not be deterred despite union pledges for three months of rolling stoppages.
Laurent Berger CFDT secretary general said, "What I'm expecting is not to see each side flexing muscles. In an interview yesterday (Sunday), Prime Minister explained we wouldn't back down. That's the usual trick we've been served for years whereas the other side, (CGT) they accuse the government of wanting to dismantle SNCF. What CFDT says is: we must negotiate. »
The next two days of disruption of strikes will be on Friday 13 April and Saturday 14 April affecting 4.5 million daily users.
President Macron hopes to have the reforms in place by the end of the summer.