More disruption for rail travellers in France
Comments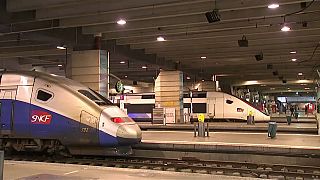 It was another nightmare day for rail travellers in France on Sunday.
Millions of French commuters and holidaymakers faced disruptions as rail workers went on strike against President Macron's economic reform plans.
These Australian travellers had to wait a long time after their train was cancelled.
"We had a train to St. Jean (Bordeaux) at 10 o' clock, and it's been cancelled, so we're looking at booking another one at three this afternoon."
Steph Burke said, "So we're going to have to wait here for about seven hours."
The government plans to end job-for-life guarantees and early retirement for rail workers at the state-run rail firm SNCF.
It argues this will help transform the heavily indebted company into a profitable public service.
But talks between workers and ministers have so far hit a wall.
Unions say strikes could drag on well beyond June if nothing shifts.
Strikes are for two days out of every five until the end of June.
Disruption continues on Monday.