Kenyans again dominate Paris Mens' & Womens' marathons
Comments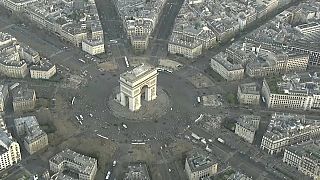 The Paris marathon is one of the blue ribbon event's star venues, and the 2018 edition did not disappoint with sunny waether and a packed field of top athletes, including last year's winner Paul Lonyangata.
The 25-year-old retained his title in style. He won in two hours, 6 minutes and 25 seconds and did not improve the personal best he set last year when he finished in 2:06:10.
Lonyangata, who also won the 2013 Lisbon and 2015 Shanghai marathons, edged fellow Kenyans Mathew Kisorio and Ernest Ngeno.
The women's race was staggered first, allowing them to finish at roughly the same time as the men, so the winner had company as Lonyangata went past fellow Kenyan Betsy Saina towards the finish. Saina made it to the finish just behind Lonyangata, completing the race in 2:22:56 ahead of Ruth Chepngetich of Kenya and Gulume Chala of Ethiopia.
He becomes the first man to pull off the double in Paris since the appropriately-named Briton, Steve Brace, in 1989 and 1990.
Kenya took all but one of the medal positions in both races.