Rotich Lobuwan and Arusei complete Kenyan sweep of Athens Marathon titles
Comments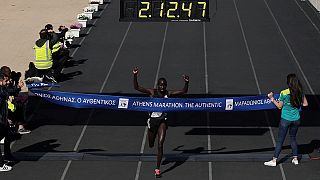 Thousands of runners gathered in the Greek capital to take on the leg burning challenge of the Athens marathon on Sunday.
In fact more than 50.000 runners took part in 6 different categories for the 34th edition of an event that was first run at the first Modern Olympic Games in 1896. A Marathon that is commonly known as the Authentic.
As has been the case for many a marathon over the past few decades, Kenyan runners dominated the race.
Luka Rotich Lobuwan won the men's race and crossed the finish line in a time of two hours, 12 minutes and 49 seconds, missing out on the course record set by compatriot Felix Candie in 2014 by nearly two minutes.
Fellow Kenyan and early race pacesetter Benson Kipruto faded towards the end and had to settle for second place.
Andrew Kimtai completed an all-Kenya podium in third.
In the women's race, Nancy Arusei – also from Kenya – took gold on her Athens Marathon debut by finishing in a winning time of two hours, 38 minutes and 13 seconds.
In second place – a mere 15 seconds adrift – was Kenza Dahmani from Algeria while claiming third to a massive cheer from the home crowd was Greek runner Ourania Rempouli, who struggled to hold back the tears of joy as she crossed the line at the marble Panathinaic Stadium in the city centre.