Russian ballet company celebrates 20 years of performances in New York
Comments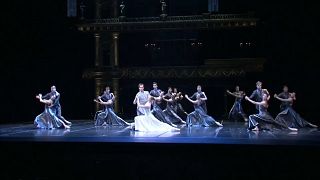 The Eifman Ballet of St. Petersburg is celebrating the 20th anniversary of its New York City debut. The company is making its first-ever appearance at the David Koch theatre with its hit production, "Anna Karenina".
Choreographer Boris Eifman's take on the Tolstoy classic raises the tragic affair of Anna and Count Vronsky to melodramatic heights with his mix of ballet and contemporary dance.
"We've been familiar with this story in Russia since school," said ballet dancer Maria Abashova. "And for me, this is a really native role because I've played it for more than 10 years. It has grown together with me.
Dancer Oleg Gabyshev portrays Vronsky and said he hopes dance expresses the world's commonalities.
"Art should be separate from politics. But at the same time, it should make us closer and cool down the passions that exist namely in the political world."
Performances will take place until this Sunday then the performance will move to St. Petersburg's Alexandrinsky theatre on April 23 and 24.