Star falls as Bollywood's Salman Khan gets five years for killing endangered species
Comments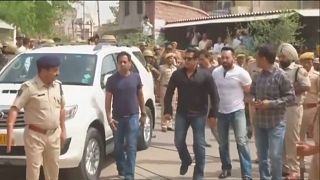 One of the biggest stars in Bollywood has fallen with the conviction of Salman Khan by a court in Jodphur, India, of poaching. He was sentenced to five years in jail, and given a 125-euro fine.
He was accused along with four other actors of killing an endangered species, a Blackbuck Antelope, in 1998.
For nearly two decades Khan has been pursued by the Bishnoi community, which reveres the animal and considers killing it unholy.
Last year another court in the same city cleared Khan of killing a gazelle due to lack of evidence, and in 2015 the Bombay high court overturned a conviction in a hit and run case when it was alleged Khan had driven over a group of people sleeping on a pavement, killing one and injuring four.