78% of UK firms pay men more than women
Comments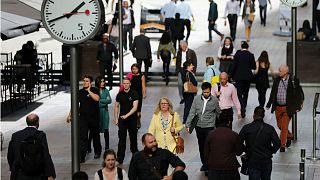 Nearly eight out of 10 companies and public sector bodies in the UK pay men more than women, according to gender pay gap data released by thousands of organisations.
Businesses with more than 250 employees were required to submit data on gender pay gaps to the Government Equalities Office by midnight on Wednesday, with those failing to do so risking legal action.
In total, more than 10,000 companies submitted their data, of which 78% had a gender pay gap in favour of men.
Some 8% of respondents had no median gender pay gap, and 14% had a pay gap favouring women.
Ryanair reported a 71.8% median hourly pay gap between men and women, while Europe's largest bank, HSBC, on average paid men 59% more than women.
What about the media?
Huge pay gaps were also revealed in the media industry, where men were shown to occupy more senior roles and receive bigger bonuses.
An analysis by trade magazine Press Gazette showed that 91% of UK-based media companies paid men more than women on average, based on the mean hourly rate.
The Telegraph was found to have one of highest gender pay gaps in the industry, with women getting paid 35% less than men on average.
The National Union of Journalists (NUJ) called on media organisations to address "structural inequalities in their own companies and address a culture that is clearly discriminating against women."
"Pius platitudes or high rhetoric are not acceptable; we need an industry-wide commitment to stamping out inequality," said the body's assistant general secretary Seamus Dooley.