Saudi crown prince: Israel has 'right to have their own land'
Comments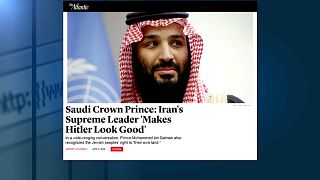 Saudi Arabia's crown prince, Mohammed bin Salman, says Israelis are entitled to live peacefully on their own land.
He made his comments in a wide-ranging interview with the U.S. magazine The Atlantic.
Previously Saudi Arabia has refused to acknowledge any ancestral Jewish rights.
He qualified his comments by stating that a peace agreement would have to be in place with Palestinians.
"I believe the Palestinians and the Israelis have the right to have their own land. But we have to have a peace agreement to assure the stability for everyone and to have normal relations."
His views are being seen as another public sign of closer ties with Israel, but some also see it as a swipe at Iran, a country with which Saudi Arabia is in dispute on several fronts including war-torn Yemen.
In the same interview, he compared Iran's supreme leader, Ayatollah Khameini, with Hitler.
"I believe the Iranian supreme leader makes Hitler look good. Hitler didn't do what the supreme leader is trying to do. Hitler tried to conquer Europe. … The supreme leader is trying to conquer the world."
Increased tension between Tehran and Riyadh has fuelled speculation that shared interests may push Saudi Arabia and Israel to work together against what they see as a common Iranian threat.