Rebel group surrenders, Syrian state media claim
Comments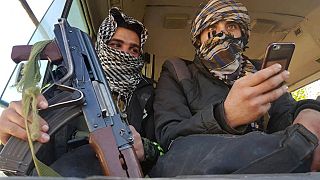 The last rebel group fighting the Syrian Army near Damascus has surrendered, state media are claiming.
The Jaish al Islam group is said to have agreed to give up its arms in return for safe passage out of the city of Douma.
Insurgents and their families from the Failaq al Rahman group have already been evacuated from the city.
The Syrian army last week warned the rebels to surrender of face a military assault to drive them out.
Syrian forces have already retaken most of eastern Ghouta in a six-week air and ground blitz that has killed hundreds of civilians.