Malala returns to Britain after visiting homeland
Comments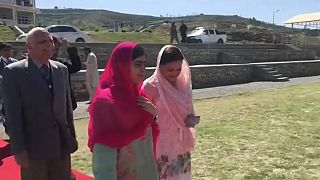 Nobel Peace Prize winner Malala Yousafzai left Pakistan for London after a four-day whirlwind visit back to her homeland — her first since militants nearly killed her in 2012 over her blog advocating girls' education.
Known by her first name, Malala visited her old home and school in the Swat valley, a mountain region northwest of Islamabad, which was under the control of the militants for about two years until the army launched an offensive to clear them out.
Though she is known worldwide, Malala is a controversial figure at home.
A group of private schools in Pakistan declared Friday to be 'I Am Not Malala Day', for her alleged "anti-Islam and anti-Pakistan ideology".
In 2014, she became the youngest Nobel laureate: honoured for her work with the Malala Foundation, a charity she set up to support education advocacy groups with a focus on Pakistan, Nigeria, Jordan, Syria and Kenya.