Kim Jong-un attends K-pop performance by South Korean artists in Pyongyang
Comments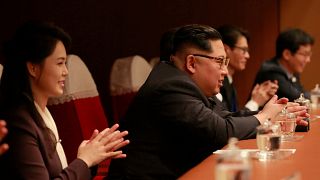 Kim Jong-un attended a K-pop concert that featured South Korean artists in Pyongyang on Sunday.
North Korea's state-run television station KRT on Monday broadcast video footage of the appearance.
It marks the first time a North Korean leader has watched a South Korean concert in the capital, according to South Korea's official news agency, Yonhap.
KRT reported the leader's heart warmed when he saw the North Korean audience react positively to the famous K-pop groups onstage.
It came as frosty relations between the neighbouring countries appeared to be thawing.
The South Korean leader's sister Kim Yo-jong and the country's nominal head of state Kim Yong-nam were also pictured at the concert.
The concert was titled "Spring is Coming" and took place at the East Pyongyang Grand Theatre.
A lineup of South Korean artists including veteran vocalists Cho Yong-pil, Lee Sun-hee, rock star Yoon Do-hyun, singer Baek Ji-young as well as K-pop girl band Red Velvet took to the stage.