Egypt's president scoops election win with 97 percent of the vote
Comments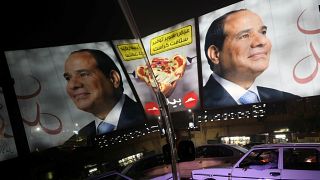 Egypt's incumbent president Abdel Fattah al-Sisi has been re-elected after reaping a whopping 97 percent of the vote, the country's election commission announced Monday.
The former army chief, 63, picked up the same result four years ago when he was elected for his first term.
Despite this, the turnout for this year's race was lower than in 2014 where only 41 percent of voters took part, compared to 47.5 percent previously.
And Sisi's stunning win was virtually guaranteed earlier in 2018 after all serious opposition candidates pulled out. His sole opponent in last week's vote was Al Ghad party leader Mousa Mostafa Mousa.
Sisi first took office after toppling Egypt's first freely elected president, the Muslim Brotherhood's Mohamed Mursi, in a coup d'état in 2013.
The move was prompted by widespread national protests against Morsi's rule after just one year in power.