"Migrant hero" baptised by Pope Francis in Easter vigil service
Comments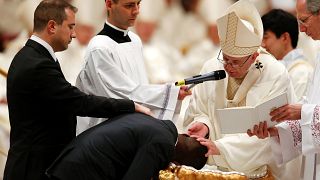 Pope Francis baptised eight people at an Easter vigil service on Saturday for around 10,000 worshippers in St Peter's Basilica in the Vatican.
One of them was John Ogah, a Nigerian migrant who became a hero in Italy after disarming a thief who was armed with a cleaver.
Italian newspapers last year dubbed him the "migrant hero" and held him up as an example of bravery and good citizenship.
As the Pope baptised him, an Italian police officer stood by his side as his godfather.
During the service he urged Catholics to not remain paralysed in the face of injustices around them.
The rite began with the blessing of fire and the preparation of the Easter candle to signify the passage from darkness to light, when Jesus rose from the dead.
Footage from the full ceremony is below: