UN Secretary General calls for investigation over deadly Gaza clashes
Comments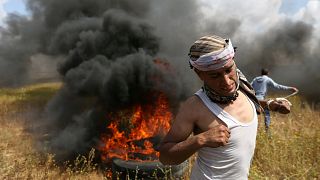 The UN Secretary General has called for "an independent and transparent investigation" into Friday's deadly clashes on the border between Gaza and Israel.
At least 17 Palestinians were killed and hundreds injured – according to Palestinian officials – as Israeli forces confronted one of the largest Palestinian demonstrations in recent years.
The United Nations Security Council was briefed on the violence and condemned it after an emergency session.
A spokesman for Antonio Guterres, the UN Secretary General, said he wanted an investigation.
"He also appeals to those concerned to refrain from any act that could lead to further casualties and in particular any measures that could place civilians in harm's way," Farhan Haq said in a statement.
Friday was the deadliest day for four years in the conflict between Israel and the Palestinians and there are fears the situation may deteriorate in the coming days.
The Palestinian envoy to the UN Riyad Mansour told the council at least 17 Palestinian civilians were killed and more than 1,400 injured.
On Friday, tens of thousands of Palestinians - including families with children - gathered at encampments a few hundred metres from the Israeli security barrier with the Hamas-run enclave.
The demonstrators are demanding that Palestinian refugees be allowed to return to towns and villages their families fled from, or were driven out of, when the state of Israel was created in 1948.
Organisers from several factions including Hamas have called for people to demonstrate in tent cities in five locations, as part of a six-week protest.
But during the day, hundreds of Palestinian youths ignored calls from the organisers and the Israeli military to stay away from the frontier, where more than 100 army sharpshooters had been deployed in anticipation of trouble.
Heavy Israeli earth-moving vehicles added to a series of dirt mounds on the Israeli side of the fence against any mass attempt to breach the barrier.
Israel has blamed "the Hamas terror organisation" for being responsible for violent riots - accusing the Islamist movement of inciting trouble and using people as human shields.
One of the dead, a Gaza farmer, was killed before Friday's protest started by an Israeli tank shell in the southern Gaza Strip.
Hamas, the militant group that dominates the Gaza Strip, has accused Israel of trying to intimidate Palestinians by killing the farmer and by urging them not to participate in the protests.
Watch our special 360° report on what is is like to live in in Gaza after 10 years of Israeli blockade