Human chain rescues four from rough seas at seaside resort
Comments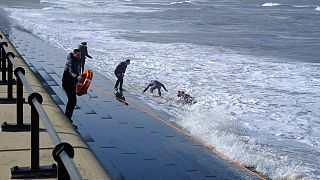 A series of failed rescue attempts led to four people being trapped by choppy waters in Northern England, before they were rescued by a human chain formed by passers-by.
The unfortunate chain of events unraveled when a man fell from a slipway into rough waters in Redcar, a seaside resort and town in North Yorkshire, at 4pm GMT (5pm CET) on Friday.
The man he was with attempted to wade in to rescue him, but was dragged into the sea by heavy waves.
A passing man and woman then attempted to pull the men from the water, but got into difficulties themselves and became trapped.
As the scene unfolded, members of the public alerted the coastguard but were able to pull the four to safety by forming a human chain.
"This was a sequence of events which could so easily have led to multiple deaths," said spokesman Dave Cocks, who works for sea rescue charity the Royal National Lifeboat Institution (RNLI).
"The sea at Redcar is very rough as a result of the combined effects of strong winds and a particularly high tide, and the situation ended up with four adults in trouble in the sea, all needing rescue.
"It is only through good [fortune] that all four were rescued alive."
RNLI volunteers brought the victims to a nearby lifeboat station before paramedics arrived to assist.
They were taken to James Cook University Hospital in Middlesbrough and treated for the effects of cold water immersion.
"This just goes to show why people need to respect the water. The sea is a hostile, unforgiving environment," said Cocks, a lifeboat operations manager in Redcar.
"If you see someone in trouble, alert the lifeguards or call … for the Coastguard. Do not enter the water yourself."