Protesters rally across Ireland over handling of high-profile rape trial
Comments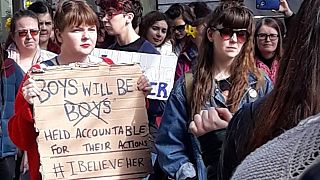 A high-profile rape trial in Belfast that concluded with not-guilty verdicts for all four defendants, sparked protests in towns and cities across Ireland on Thursday. The nine-week trial, involving two members of the Ireland rugby team, drew heavy criticism over the treatment of the young woman who brought the case to trial and inspired a new 'I believe her' campaign.
Ireland rugby player Paddy Jackson cleared of rape and sexual assault on Wednesday, while his teammate Stuart Olding was cleared of rape of the same woman at a house in south Belfast in June 2016. Two other men were also cleared, one of exposure, and the other of perverting the course of justice.
A jury of eight men and three women deliberated the case in less than four hours before returning a unanimous not-guilty verdict.
The gruelling details of the court case were played out in the public eye, and saw the woman in the witness box on eight days as she was cross-examined by four legal teams. Court reporters attending the trial said it was often difficult to find a seat in the crowded court room.
During the trial, which pitted the woman's word against that of the defendants, the bloodied garments and underwear of the complainant were passed around the room. Although she was seated behind a curtain as she gave her evidence, she was in full view of the dock and the gallery as her statements were transmitted on a TV screen. While it is illegal to name the complainant, her identity was soon shared widely.
Women's rights organisations warned of the effect the trial will have on rape victims coming forward. While accepting the court's verdict, the Dublin Rape Crisis Centre wrote, "Those who report in cases where the defence claims the sex was consensual will be afraid of the treatment they may receive in court. And yet, if complainants don't report, rapists will not be brought to justice."
In a column, DRCC chief executive Noeline Blackwell said, "We believe that recognising when a complainant is being unfairly treated will not detract from the rights of an accused. The rights of all must be maintained. The object of the trial should be to identify whether criminal behaviour occurred with the minimum of trauma to all parties."
Rape trials in the UK differ from those in the Republic of Ireland, where they take place behind closed doors. But overall the process is largely the same, Blackwell wrote.
Protesters rallied outside the court house in Belfast on Thursday, while other rallies were held in Dublin, Cork, Galway, Limerick and Derry.
Despite the acquittal, the Irish Rugby Football Union has said it was extending the suspension of Jackson and Olding, pending an internal review. In a statement following the trial, it said it had awaited the verdict before launching the review process.