North Korean leader's visit to China confirmed
Comments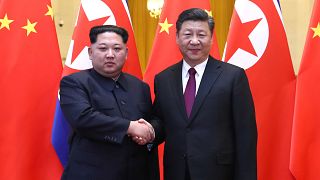 Speculation has been brought to an end with the confirmation that North Korea's leader Kim Jong-un has visited Beijing.
Images of the meeting with China's leader President Xi Jinping and their respective wives have been released by Chinese state media. The trip is said to have lasted from Sunday to Wednesday.
Rumours circulated earlier this week after local media reported a high-profile figure had arrived on a special train.
The visit was Kim's first known journey abroad since he assumed power in 2011 and is believed by analysts to serve as preparation for upcoming summits with South Korea and the United States.
Kim reportedly considered the talks to be "successful" and has assured his Chinese counterpart that he is committed to denuclearisation.