Families of Argentine soldiers killed in Falklands visit graves
Comments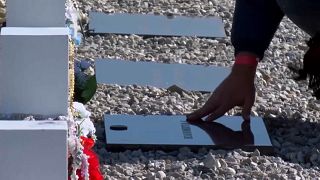 36 years after 649 Argentine soldiers lost their lives in the Falkland War, the families of some of them have been able to visit their newly marked graves.
More than 200 relatives of 90 recently identified soldiers who died in the war visited the place where they were laid to rest.
As part of a joint project led by the International Committee of the Red Cross, forensic teams exhumed, analysed and documented the remains in each of the unidentified graves in the Argentine cemetery at Darwin.
Until recently, the gravestones in the military cemetery had simply read: "Argentine soldier known only to God."
For families of the fallen soldiers it was a long awaited moment to help them cope with their losses.
A historic day in the #Falklands when the relatives of 90 recently identified Argentine soldiers, who lost their lives in the 1982 war, visited Darwin Cemetery to properly pay their respects to loved ones 36 years later. pic.twitter.com/tnGT5DXsX9

— Falkland Islands (@falklands\_utd) March 26, 2018