Belgian NGO promotes playing sport for peace
Comments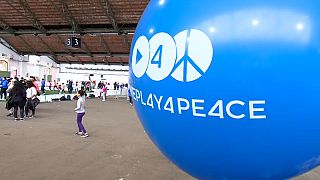 As part of the International Day of Sport for Development and Peace, a Belgian NGO called Play 4 Peace organised a huge day of sport, open to everyone.
In all, thirty different sporting activities, supervised by professionals, were held and offered free to participants. Through sport, Play 4 Peace wants to break social and cultural barriers.
The day kicked off with a short jogging session and continued with various activities such as golf, boxing, basketball, squash and fitness classes.
The aim of Brussels Play 4 Peace is to raise awareness of the power of sport as an instrument of peace, dialogue and education. And many personalities from the cultural and sporting worlda were present.
Avi Tawil is from the Jewish Community in Brussels. He came along with his five children to play sport and promote coexistence.
"We need to be heard more than those who create chaos. With people from the Jewish community, we try to communicate this as much as possible," he says. "Society these days risks breaking up. And we need to bring people together."
Ηamza Abettoy is from the muslim community and lives in Molenbeek.
"As a youngster living in Molenbeek and coming from a North African community, the son of immigrant parents, I'm here to meet Jewish people," he says. "Thanks to Play 4 Peace, you realise that thanks to sport you can create some common basis for understanding."
Emmanuelle Bonaventure is from in the Belgian commune of Rixensart in the Walloon Region. She says Brussels is a cosmopolitan place, but people do not know each other. She believes people should be encouraged to integrate to fight all types of discrimination whether it's on the basis of age, religion or race.
"It's not easy to find this kind of social and cultural melting-pot in Belgium nowadays," she explains. "And that's what drove me to join Play 4 Peace, because through sport we have an opportunity to meet new people and break down stereotypical thinking and behaviour to share something much bigger."